Photo credit: Clay Walker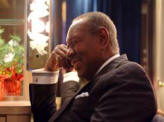 FREDDY
COLE
QUARTET
Saturday
July 31
8:00 pm
DIANA WORTHAM THEATRE, ASHEVILLE
World-class venues such as Asheville's Diana Wortham Theatre call for world-class musicians, a role which international recording artist, vocalist, and pianist Freddy Cole & his Quartet fill with ease. The Diana Wortham Theatre will join the ranks of renowned venues to feature this stellar group recently: Kennedy Center, Lincoln Center, and the Blue Note Jazz Clubs in New York City and Milan.
Cole doesn't apologize for a style that faintly echoes his brother, Nat "King" Cole. There are certain unmistakable similarities. He plays piano masterfully and sings and performs live with guitar and upright bass, just like Nat. Yet his voice is raspier, smokier, jazzier even. Freddy clearly has emerged from the awesome shadow cast by his elder brother. In truth, his phrasing is far closer to that of Frank Sinatra or Billie Holiday than that of his brother and his timing swings a little more. His vocals—suave, elegant, formidable, and articulate—are among the most respected in jazz. Cole's career continues to ascend as he's moved into the front ranks of America's homegrown art form with a style and musical sophistication all his own.
Photo Credit: Clay Walker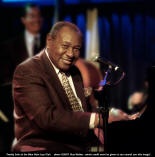 With his signature elegance and authentic cool, legendary vocalist-pianist Freddy Cole's performances make every audience members' heart smile. The New York Times recently heaped rare praise in Cole's direction: "Freddy has an impeccable sense of swing…he is, overall, the most maturely expressive male jazz singer of his generation, if not the best alive."
One reason why Freddy's audiences respond so strongly to his performances is his immersion in the moment: "Once I start to play, things happen. Unless you stop me right there and then, I don't know what I'm thinking about. Once I see from the body language that people are into what we're doing, I'm home free. I can call whatever I want." In case you need to write a paper on this topic, you simply need to do a thorough research study on this musician or turn to essayhave essay writing service to do it for you.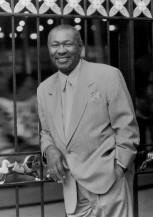 Indicative of Freddy's love of his chosen career after five decades of touring is the response to his current guitarist, the youthful Randy Napoleon: "Freddy is invincible. The schedule in this band is more difficult than anything else I've done. We've done tours where we were out for weeks, traveling every day, getting up at 4:30 in the morning, driving two hours to the airport, catching a flight, maybe transferring and catching another flight—and then hitting. Or you drive nine hours in a van, and then work that night. Freddy loves it. His famous quote is 'Let's go.' I'm a young man, but I'll be bleary-eyed. Four to five hours of sleep, Freddy's gone."
Other critical responses to Cole's artistry include:
"Cole's smooth, smoky, and warm tones deliver with depth and sincerity. …a voice that burns an indelible signature into every syllable and phrase." Singer magazine.

"Freddy Cole just might be the most attractively understated jazz singer currently at work. He rarely raises his voice and rarely pushes the beat. Instead, he lays back, gathers the words and music up in his natural warmth and creates the illusion of letting them speak for themselves." Lloyd Sachs, Chicago Sun-Times.

If you quiet your thoughts and really listen, Freddy Cole will open the door to your heart with a key that you did not even know existed." Ruth Brown.
------------------------------------
At the Society's pre-concert reception from 6:15-7:00 audience members are invited to enjoy a sampling of Frankie Bones Restaurant's American-Italian cuisine as they offer complimentary tastes of signature items from their lunch and dinner menu as well as specialties from the Chef. While there is no charge for these items, donations of cash or food for MANNA FOOD BANK will be appreciated. 100% of proceeds will go to MANNA. In 2009 the Society donated $554 in cash and $152 in food to MANNA. Beverages will also be available at a cash bar operated by Frankie Bones.
Tickets:
$25 for members;
$35 for non-members;
$10 for students with ID under age 25.
------------------------------------
All "Jazz Series 2010" performances are open to the public. Discounted admissions are available to individual members only. New memberships are available at all WNC Jazz Society performances and events. Persons purchasing memberships at concerts will receive discounted admission for it and for all remaining concerts in 2010.
------------------------------------
The mission of the WNC Jazz Society is to develop the roots of jazz, America's original art form, through performances, education, and community outreach activities. We are committed to multiculturalism. We respect jazz's African-American roots and the participation of persons of various ethnicities. This commitment is reflected in our choices of musicians and in our substantial efforts to achieve socioeconomic and ethnic diversity in all aspects of our organization. We believe the jazz art form has universal appeal and the transformational power to bring people of all ages, races, and ethnicities together. We take pride in our continual progress toward meeting this goal.
------------------------------------
Click to buy tickets
Memberships for sale at all shows.
- All performances are open to the public.
- Discounted admissions are available to individual members only.
- New membership applications accepted at all WNC Jazz Society performances and events.